---
An Award Winning Contemporary Courtyard Beach House in Grange, South Australia. 
 2013 SA Architecture Awards | Commendation – Residential Architecture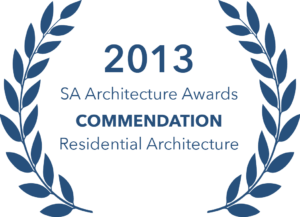 'The Captain' residence sits on 410 square metres of a subdivided block in the historically significant beachside settlement of Grange, nearby Captain Charles Sturt's Cottage and 400metres behind the main coastal sand dune. It has been recognised by the SA Institute of Architects by winning a commendation at the 2013 Architecture Awards. The 4 bedroom home makes use of adjacent rear and side lanes to the north and east of the site and scale and form responds to the mix of single storey and two storey dwellings and adjacent heritage overlays. The residence is a contemporary Courtyard House designed around a landscaped central courtyard and swimming pool to create a natural light well for the open internal spaces of the house.
This project is an example of how our practice continually aims to develop a sustainable house type to cater for these more common 'skinny' blocks to allow suburbs to increase in densities without losing amenity. The challenge is to efficiently design typical house programme on a tight (8m x 50m) block, to house either a family, or to house the increasing demand for lock-and-leave accessible ground level dwellings for an ageing population (e.g in this case and ageing couple). The house incorporates a strong ESD focus, using both 'passive' and 'active' environmental elements, responds to the local context, scale and climactic conditions and is generated from a belief that good sustainable design that incorporates light, open spaces, that helps connect with the outdoors results in happier, healthier occupants and ultimately a more sustainable living environment.
Design features include:
Create a sense of transparency through the house that challenges the 'refrigerator box' townhouse developments that dominate the area
Borrow light and space from adjacent internal and external areas, to intensify the relationship with the elements rather than creating barriers
Build to the boundary to maximise the use of the site
Simple roof shape to cover the site, then cut in and move the external walls beneath this shape to create courtyards for landscaping, pool, natural light, ventilation & change in materials
Utilise steel claddings and structure to minimise maintenance to the building. Recycled & new timber is then incorporated strategically in protected areas and internally to soften the feel with Red brick (alluding to the old Adelaide Cottage) and Kanmantoo Stone (Adelaide Hills) for contrast and solidity.
Integrate the ESD environmental systems into the design from the start
Design the house so it can be 'sailed like a boat' via the use of ventilating windows, shading devices.