---
An Award Winning, nature based Holiday Shack at the iconic Vivonne Bay in Kangaroo Island – the 'SupaShak'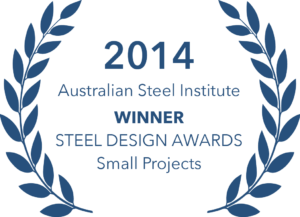 The Kangaroo Island Supashak project is an award winning, prototype contemporary transportable house type that has been designed to suit a variety of Australian climate types due to its modular construction system. This Supashak sits in the unique coastal bush site adjacent the iconic Vivonne Bay Beach on Kangaroo Island and is ideal for nature based tourism accommodation due to its strong ESD focus.
The design helps intensify the relationship with its local environment through its transparency and emphasis on 'having fun in the outdoors'. It has been designed, engineered and built in-factory for the specific purpose of being able to transport across Australia. At 90 square metres, a small, compact, efficient floor plan is generated from a philosophy of reducing the program down to only what the most important brief requirements are in a house, and discarding the excess 'unnecessary' items. Designed for a nature based holiday accommodation for up to 10 people, the brief includes 3 bedrooms, combined laundry bath, and an open kitchen/living/dining area that opens on to the bush.
A funky galley kitchen sits alongside an open living dining social space that spills to the outside via large windows and sliding panels. The raking ceiling opens up the space and gives views to the skies to see the deep blue summer hues, or the next storm gathering. Raking ceilings and high glazing for light and ventilation are used through the bedrooms, bunk room and a cool stainless steel bath / laundry add to the holiday feel. Get up with the sun, share some pancakes, go for a surf, shower down and grab an afternoon snooze with the bush outside, that's what it's all about!
The project sets out to challenge the typical transportable house type model in a time where prefabrication for the housing industry needs to be seriously explored to improve future housing sustainability. The house demonstrates that a focus on a small, 'fun' design leads to the creation of a sustainable method of living.